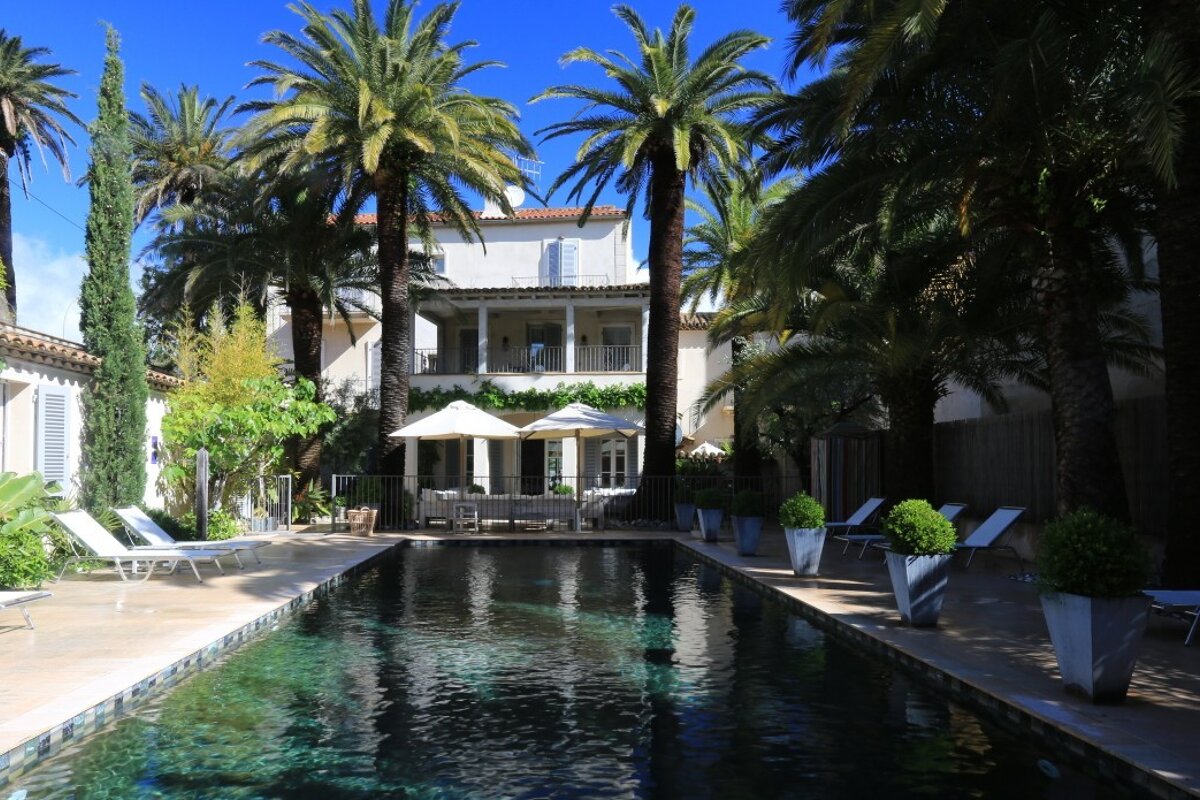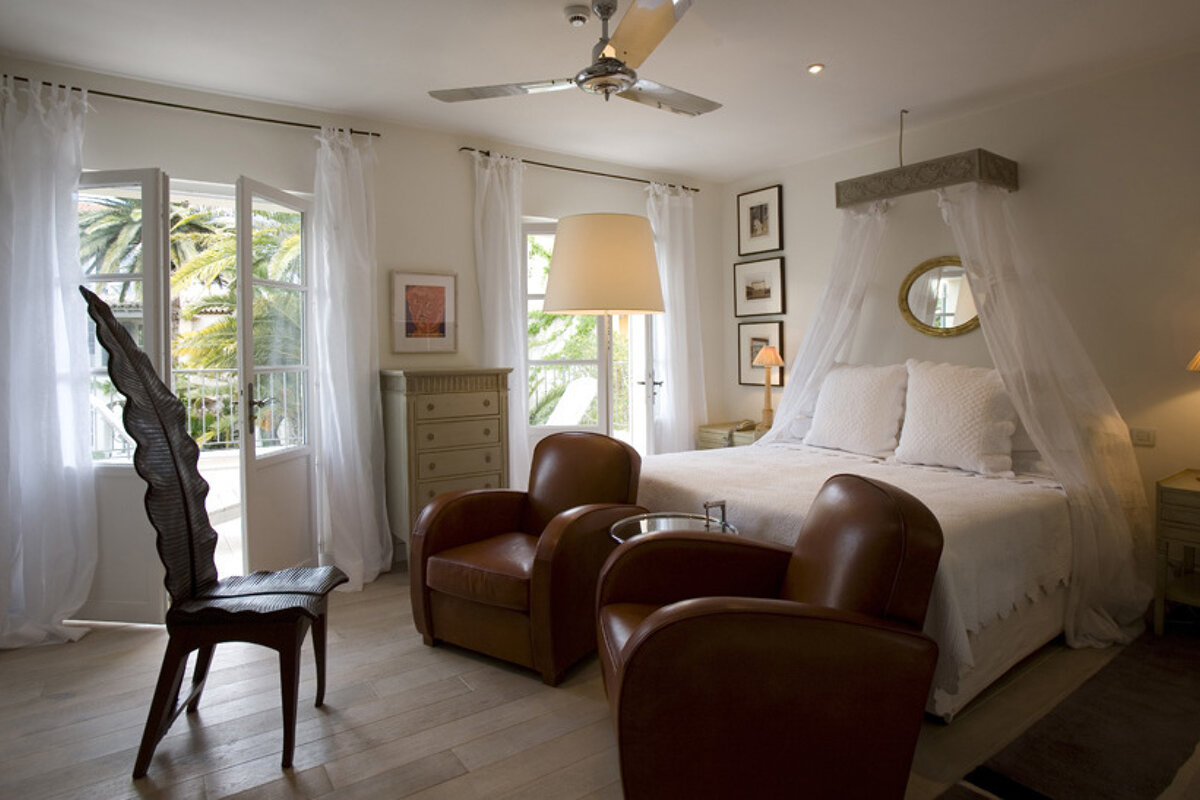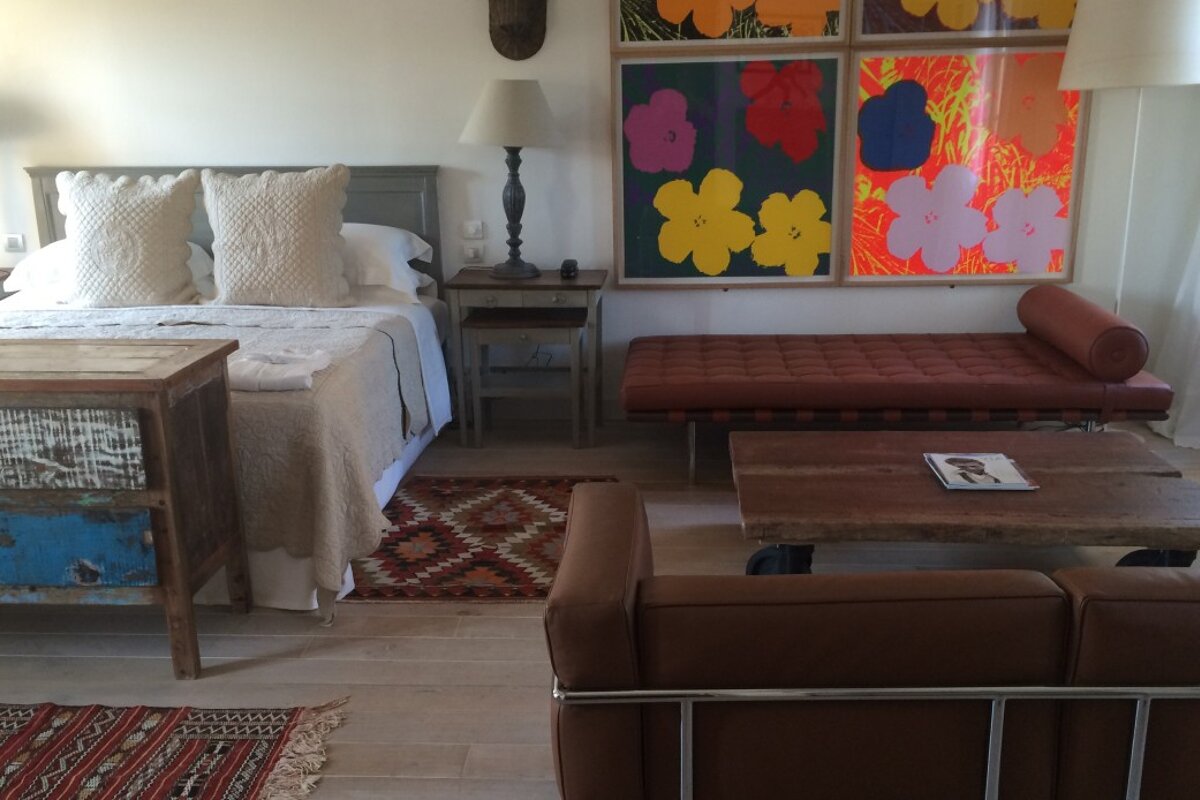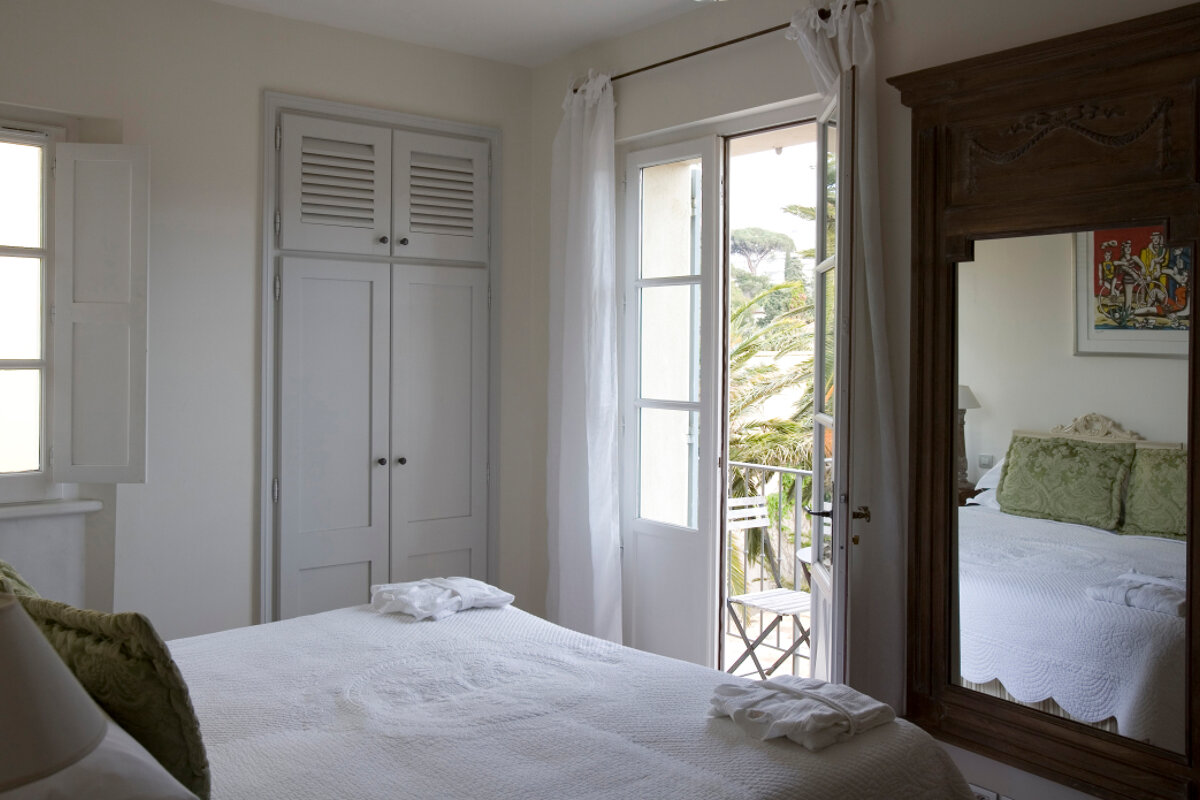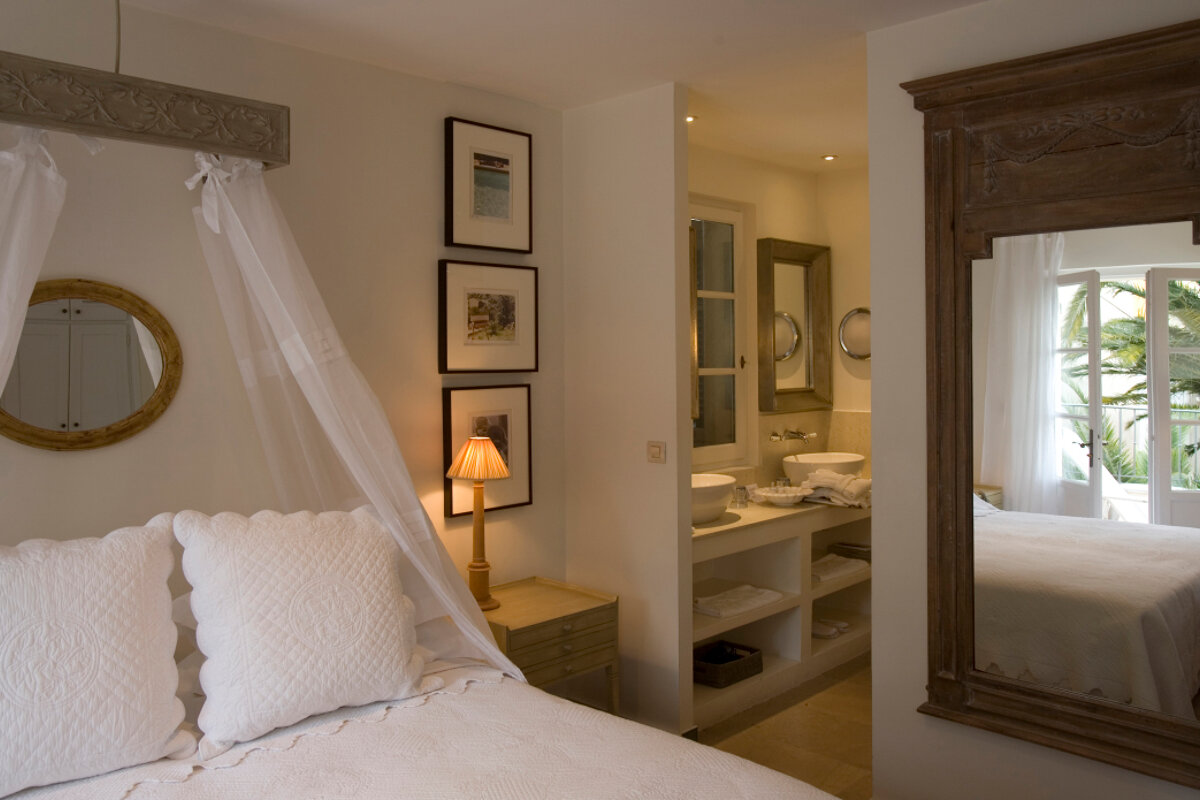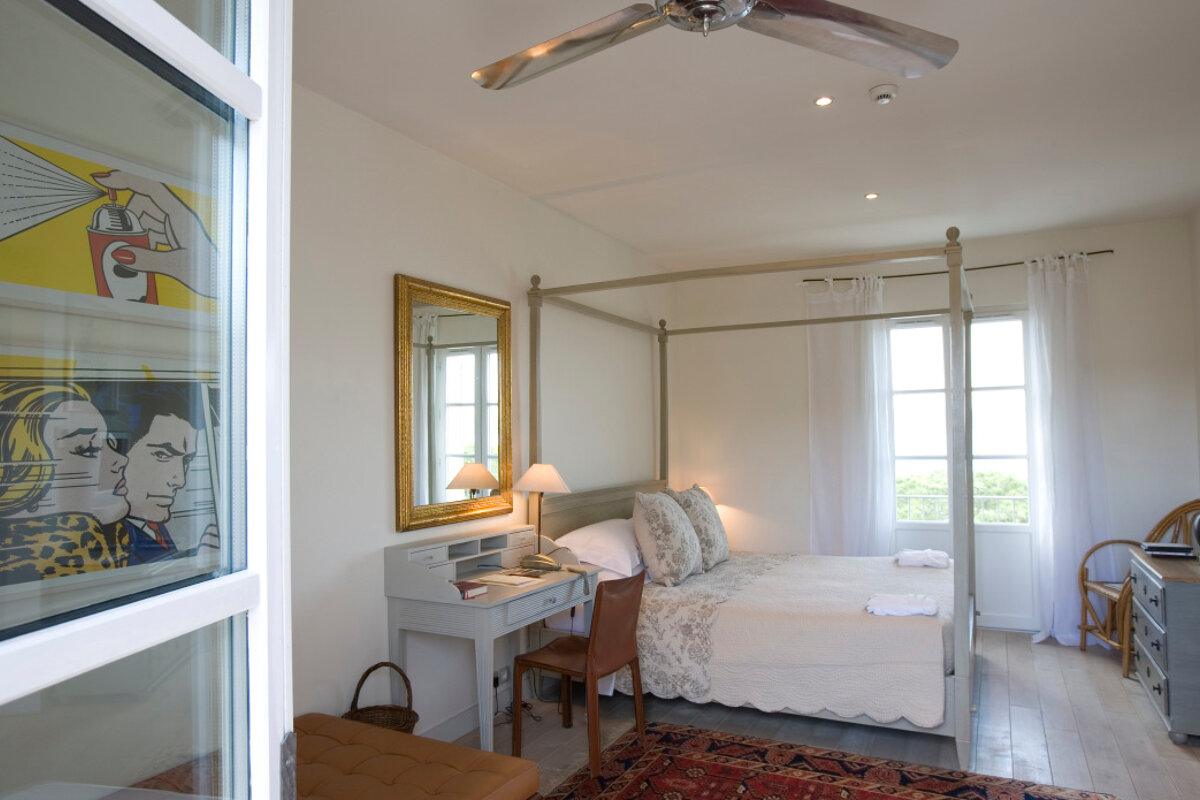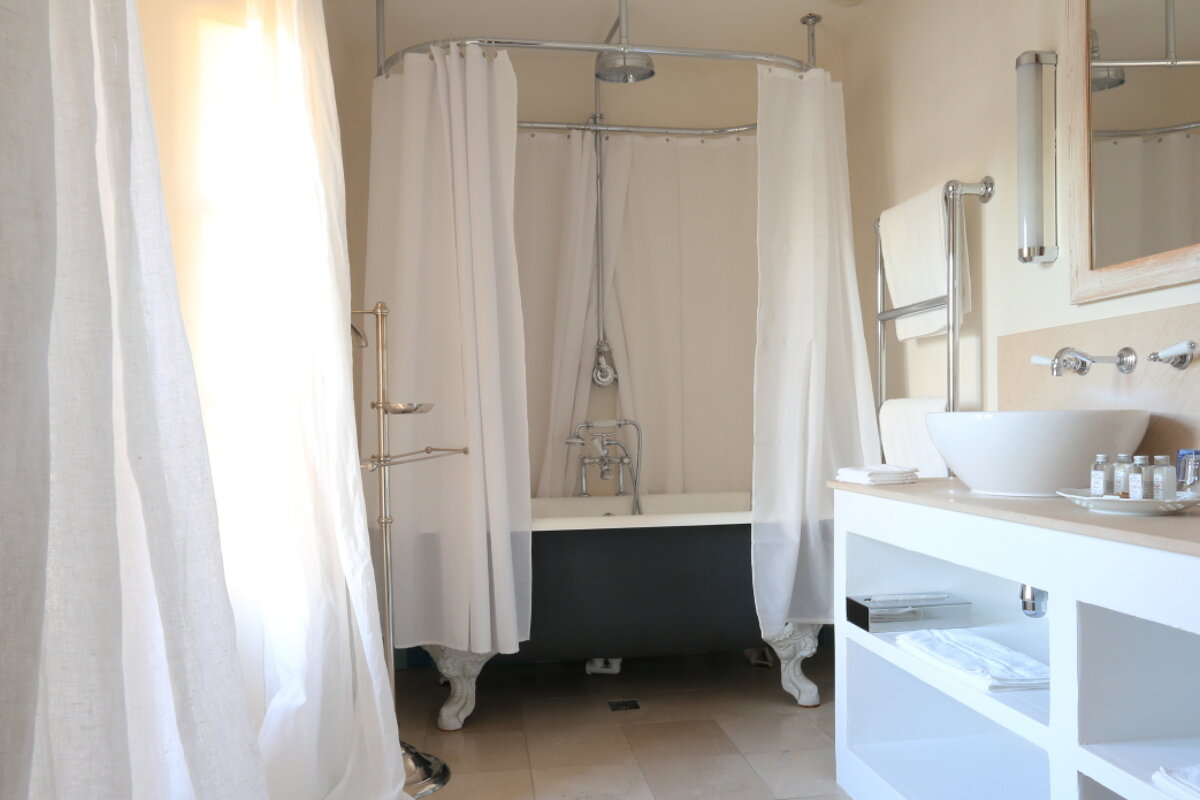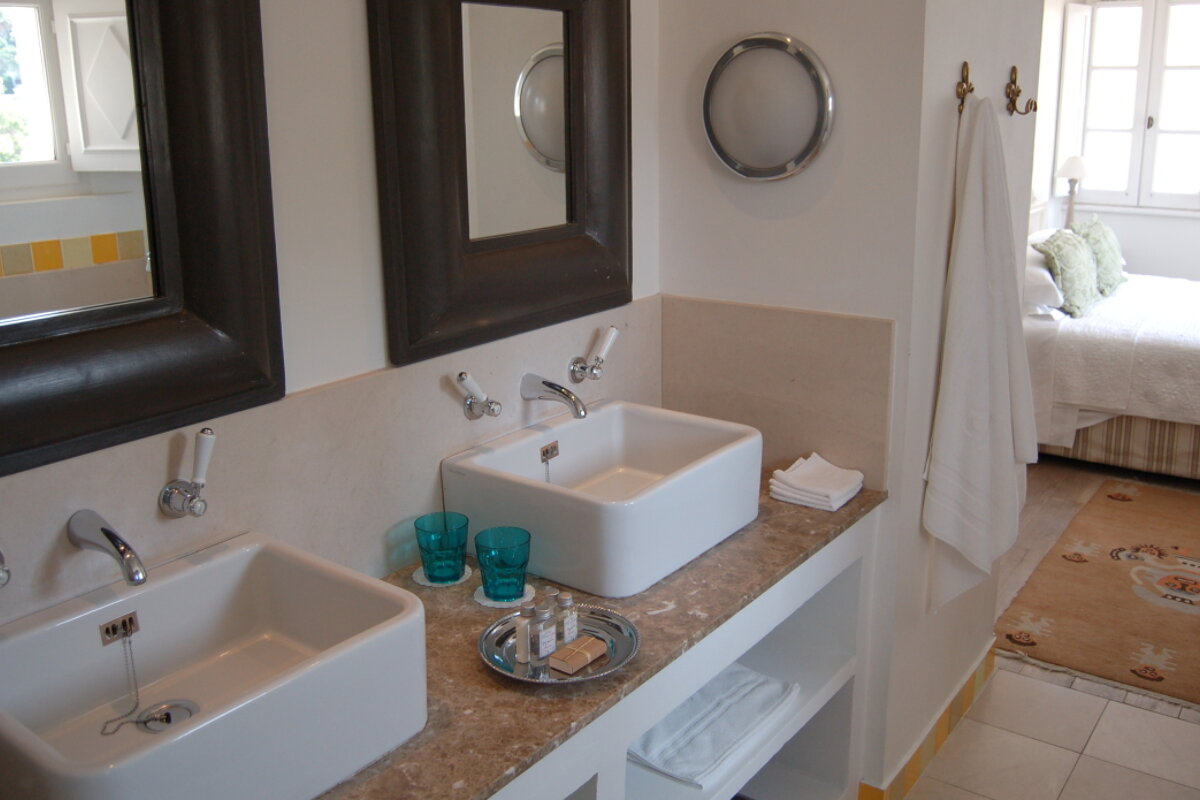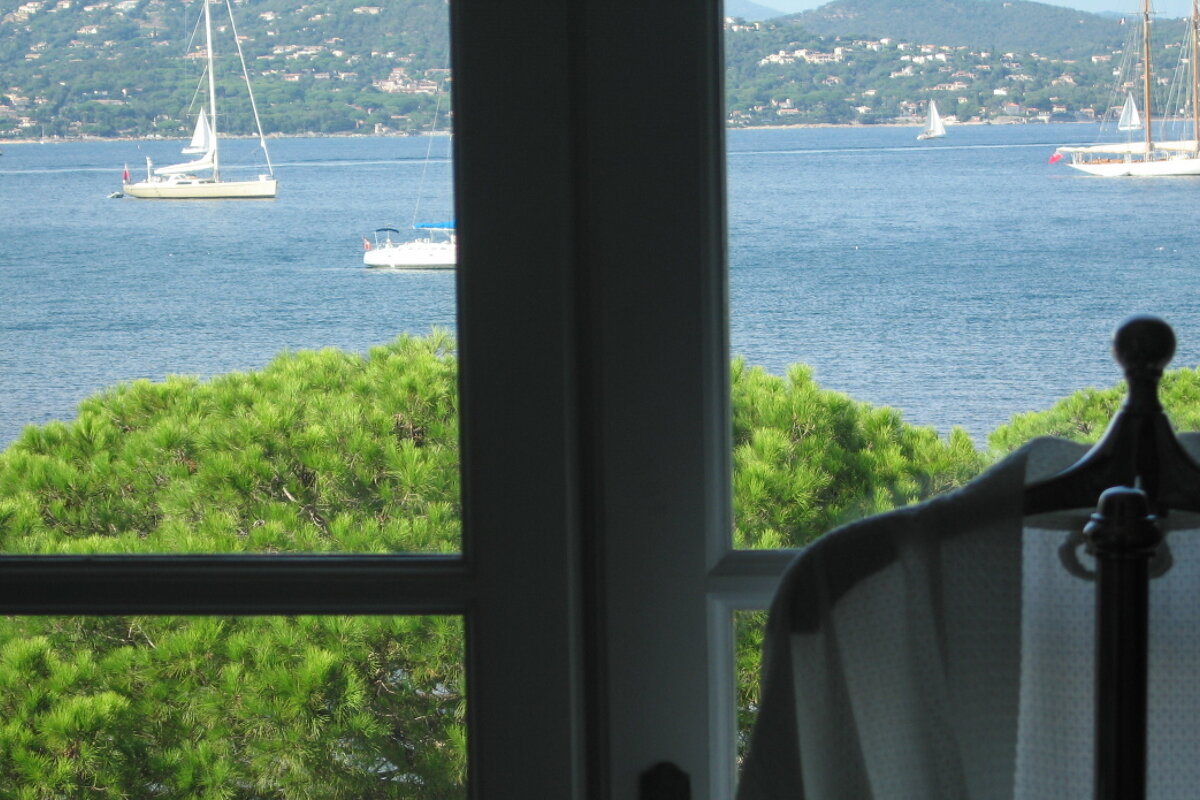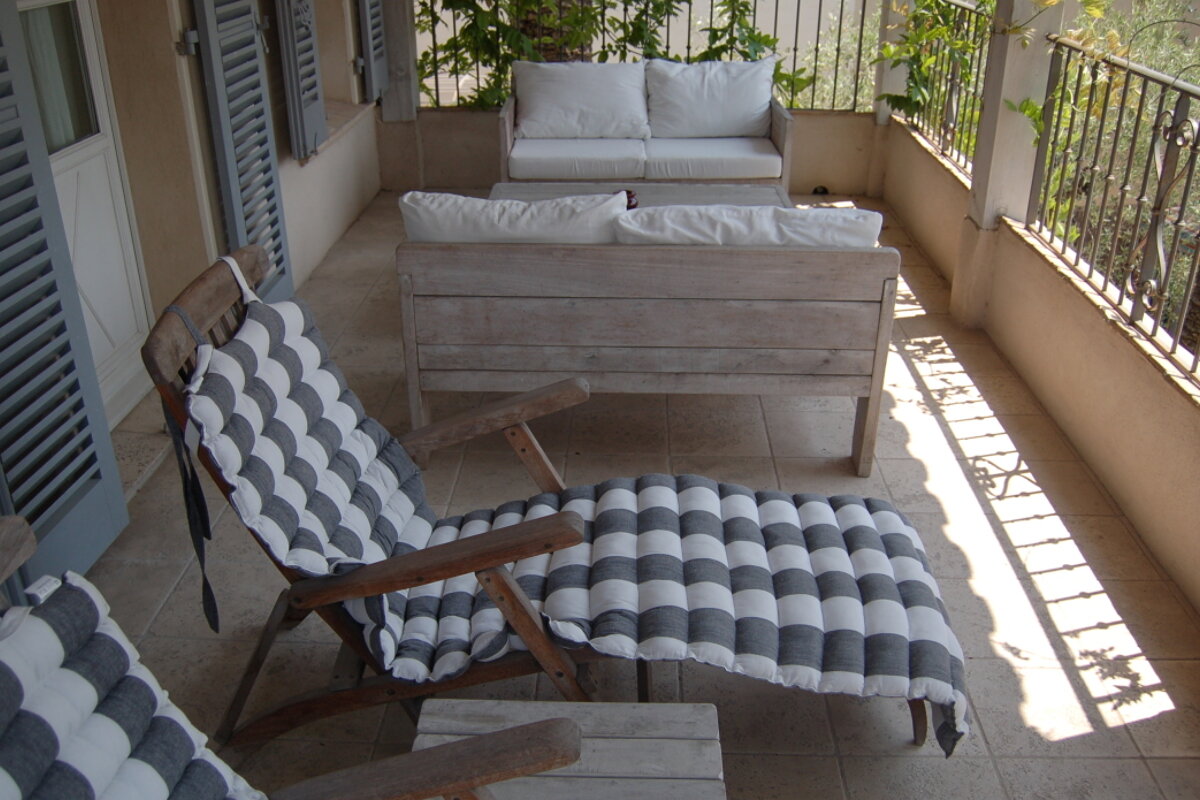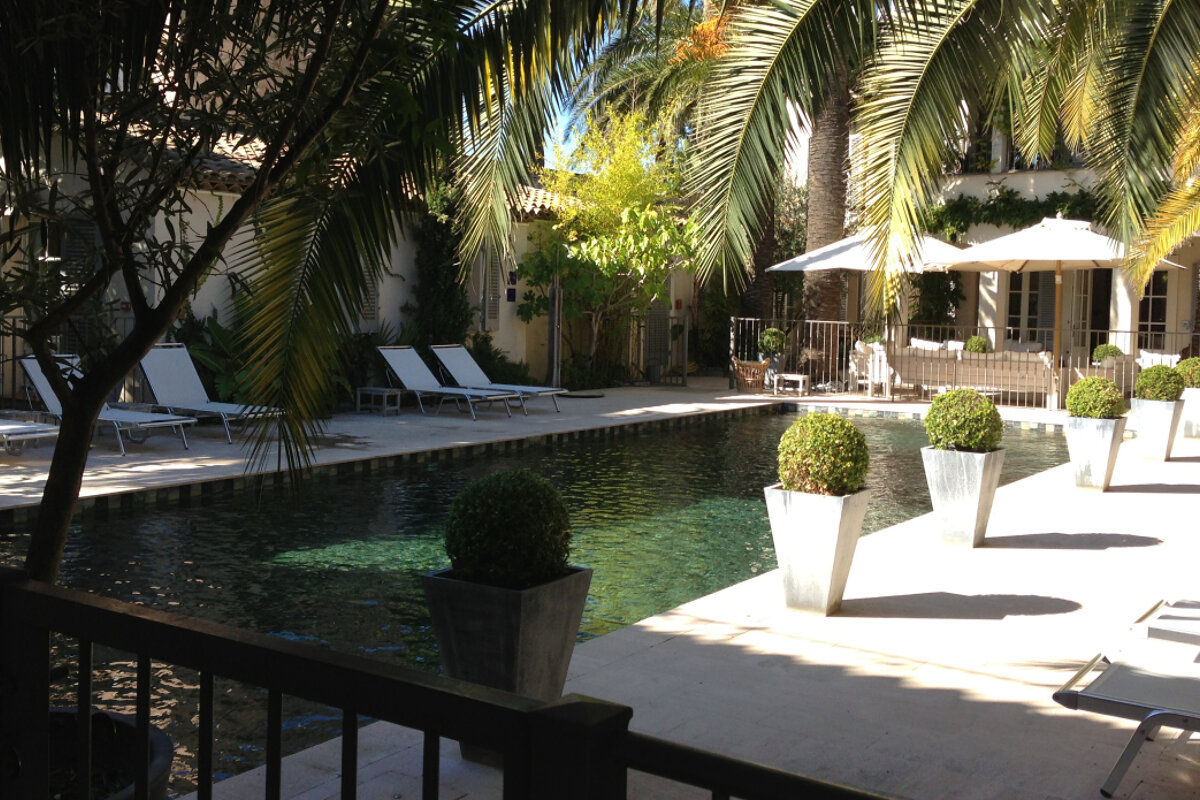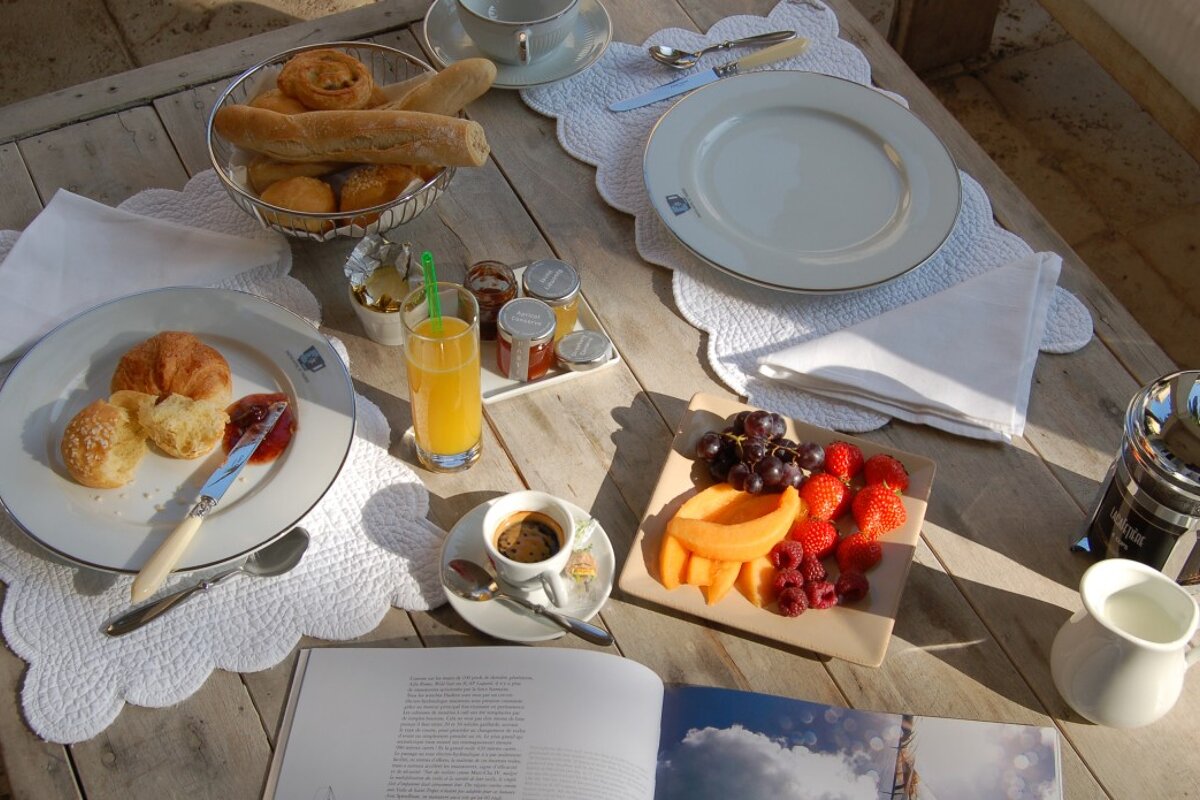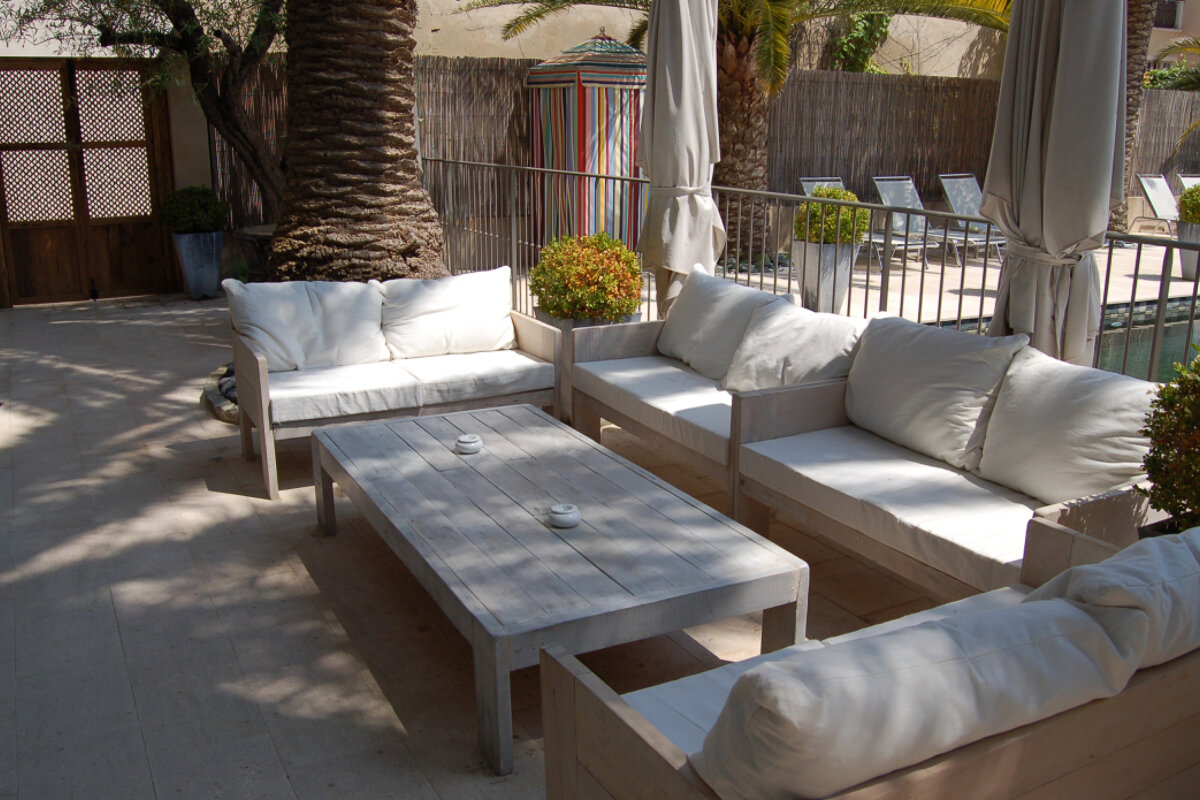 Pastis Hotel, Saint Tropez
Modern chic hotel, close to the town centre with pool & sea views
This charming contemporary hotel is set within a typical Provençal building. The owners are passionate about 20th century art, paintings and photography.
The rooms at Pastis are furnished with an eclectic mix of period and modern classic pieces with everything you need to make you feel at home and help you have a good nights sleep. 180x200cm comfortable beds with 5 star quality pocket sprung mattresses and luxury linen (400 thread count, Egyptian cotton to be precise), with super comfy white goose down and duck down pillows. Synthetic pillows are available on request.
The bathrooms all have double sinks and plenty of space, luxurious deep baths and rain showers. Each room comes complete with lightweight waffle bathrobes, a hair-dryer and luxury bath products
As Saint Tropez summers can be hot, you have air-conditioning in your room, however, if you prefer the choice of a retro fan then that is possible too. Each of the ten rooms also has FREE WiFi access and its own outdoor space, whether it be a terrace, patio or a balcony so that you can fully relax.
On arrival to your room you will find a selection of magazines, books and DVD's, along with a well stocked mini bar, tea and coffee making facilities. The flat-screen TVs include channels in English, French, German and Italian.
During the day you can look forward to unwinding in the beautiful private garden with century old palm trees or stretch out on a sun-lounger by their beautiful heated pool. If you are looking for an aperitif before dinner or perhaps a nightcap, the hotel's bar offers a great selection of classic cocktails (and pastis of course!) which you can enjoy on the terrace overlooking the pool.
If you prefer to venture out into St Tropez, the friendly hotel staff, who speak English and French, can help you to select the right beach clubs, activities and restaurants to match your wishes. They will happily make the reservations and organise taxis on your behalf.
Reviews
137 verified reviews by
Watch this
Worth knowing
The garden with it's ancient palms, bar lounge, pool and music to suit the mood is an oasis of calm where you'd least expect it. St Tropez can be noisy at times so Pastis has double glazing throughout, with triple glazing to rooms facing the sea and the road.
The Neighbourhood
Pastis Hotel is at the entrance to St Tropez facing the sea and just a 10 minute walk away from the port, so you can forget the parking problems and leave your car behind in their private gated car park. If you wish to drive to the famous beach of Pampelonne, only 15 minutes away, the hotel is perfectly located for a quick exit onto the Route des Plages.
The Pool
The hotel has a charming dark green swimming pool that measures 15m x 5m. It is surrounded by beautiful tall palm trees, shrubbery and sun loungers so that you soak up the sunshine. It is heated most of the year, depending on the weather.
The Bar
There is a small full licenced bar within the hotel which serves a fantastic selection of real classic cocktails and has a fantastic selection of pastis. You'd be remiss if you didn't try a cool glass in this wonderful hotel.
The Restaurant
The hotel does not include a restaurant but breakfast and brunch are available for guests and can be served in the delightful bar area or on the terrace. Plenty of choice, from the basic Continental, "The Pastis breakfast", to the full menu including eggs, bacon, fruit plates, and other hot and cold dishes. Delicious food, freshly made and served to order from 08:15 to midday, after which they have a small menu of salads and snacks. Great for when you want a day home relaxing by the pool.
In the evenings as there are a lot of restaurants to choose from just ten minutes away from the hotel. The staff and owners are more than happy to help with recommendations and to assist with bookings.
Visitor comments
""From the moment I walked through the doors, I knew I would love it. The decor, lovely staff and delightful owners made this hotel perfect for my husband and I. Located in a perfect location-just a short walk into town, Hotel Pastis has it all. The staff goes out of their way to book beach clubs, dinners or excursions for you. It is a small hotel, with beautiful decor. Not pretentious, but still made you feel comfortable. The breakfast was delicious. I really enjoyed having a glass of wine, and some snacks with the interesting and delightful owners. I cannot wait to come back, and HIGHLY HIGHLY recommend Hotel Pastis to anyone looking to stay in St. Tropez." - Trip advisor
"We stayed in the idillic Pastis Hotel on our honeymoon and it did not disappoint on any front. From the moment we walked in the door it was nothing but sheer delight. We were greeted by the friendliest receptionist and met the owner who had a drink with us and enlightened us on the best places to hand out in St Tropez. The rooms are all done out in a matching yet individual style; we were very lucky to stay in the room in the main building on the fist floor with a balcony, which was divine. The breakfast was simples but fabulous with every whim catered for; the attention to detail of this hotel is outstanding. I can't wait to to back, this hotel has put St Tropez on the map for me." - Trip Advisor
"When I come through the door of Pastis I feel like I'm home." - Customer Feedback
"You know room eight is our apartment in St Tropez." - Customer Feedback
"You have created a very special place here at Pastis, a physically special place but most importantly a place full of wonderful people who make it more than a place but a home away from home and perhaps even better than home." - Customer Feedback
Directions
If you are travelling by car then the hotel is located on the main route into town (D98) at the entrance of St Tropez. Just 150 meters after the small roundabout. As soon as you see the sea to your left, the hotel is to your right. Enter the gate by the stripy sign.
Train - There are direct fast trains from Paris to Saint Raphael. This is the nearest station to St Tropez. (38 km).
Boat - There are ferry services to St Tropez from both Ste-Maxime and St Raphael (these run all year but are more frequent during high season)
.
Contact
Address
75 avenue de General Leclerc
83990
Location
Saint-Tropez, Saint-Tropez