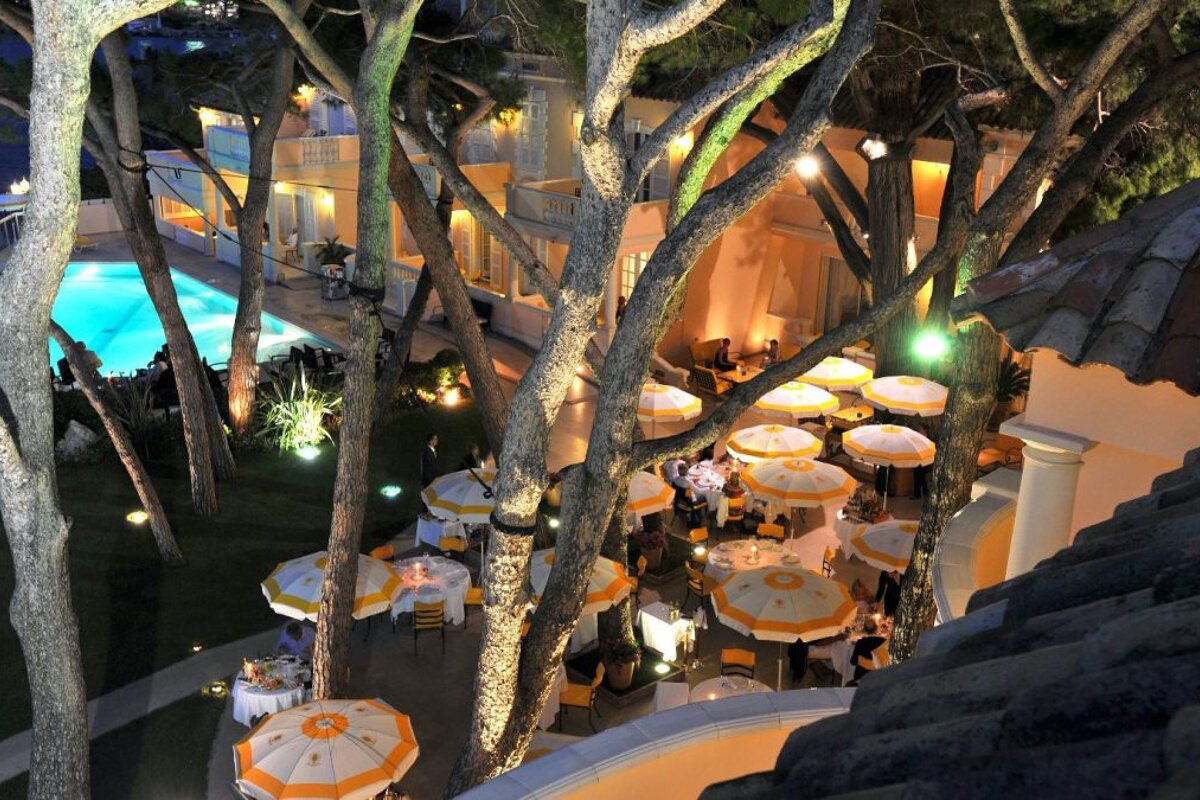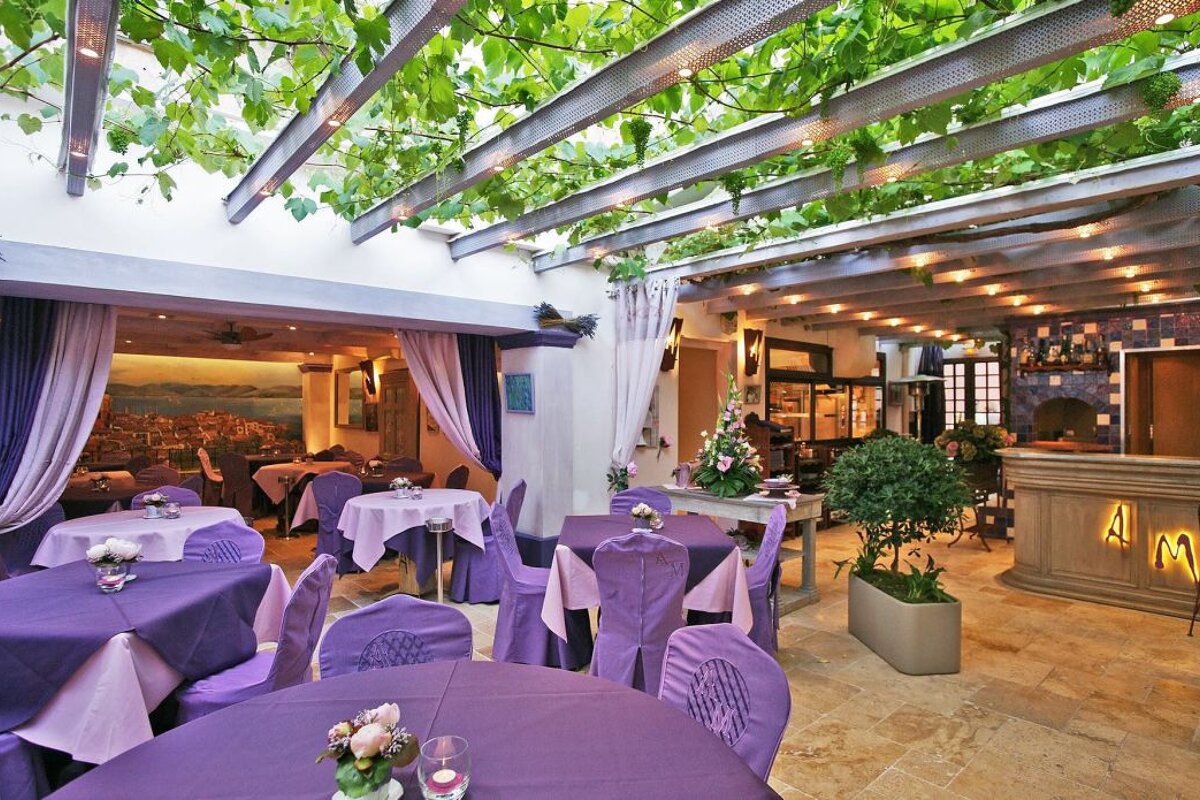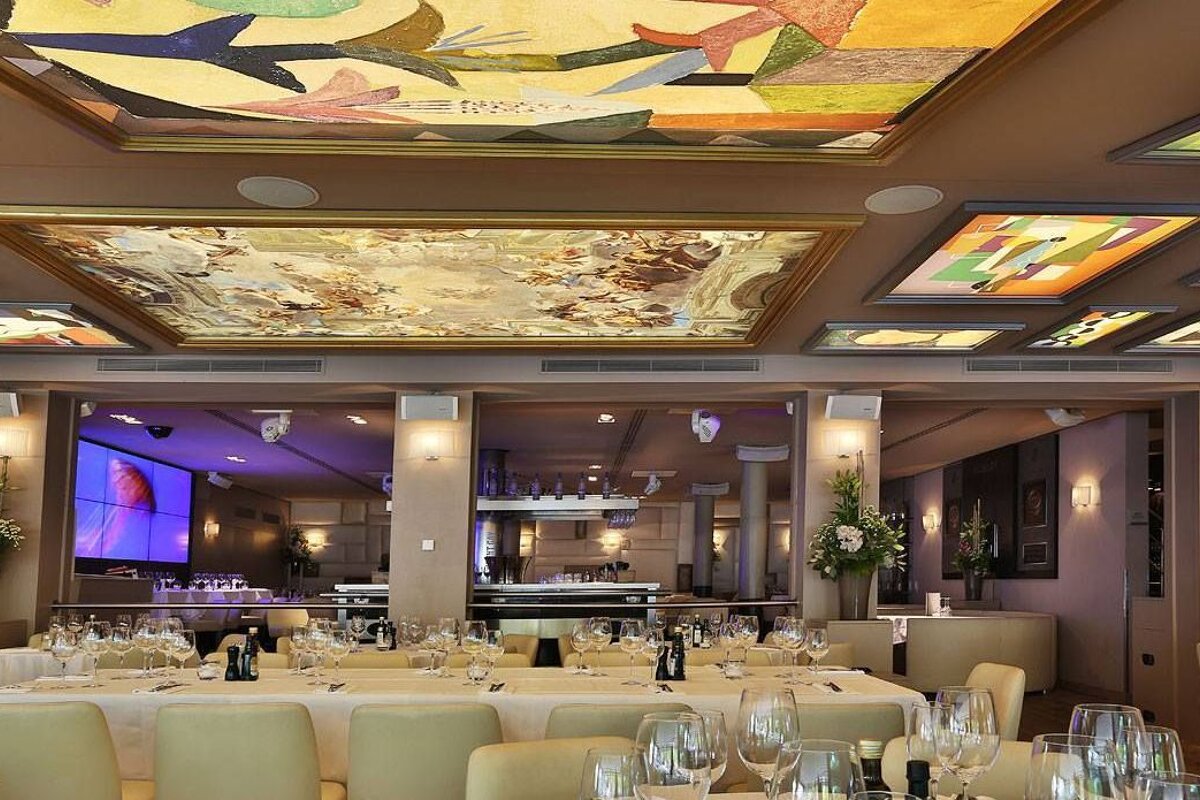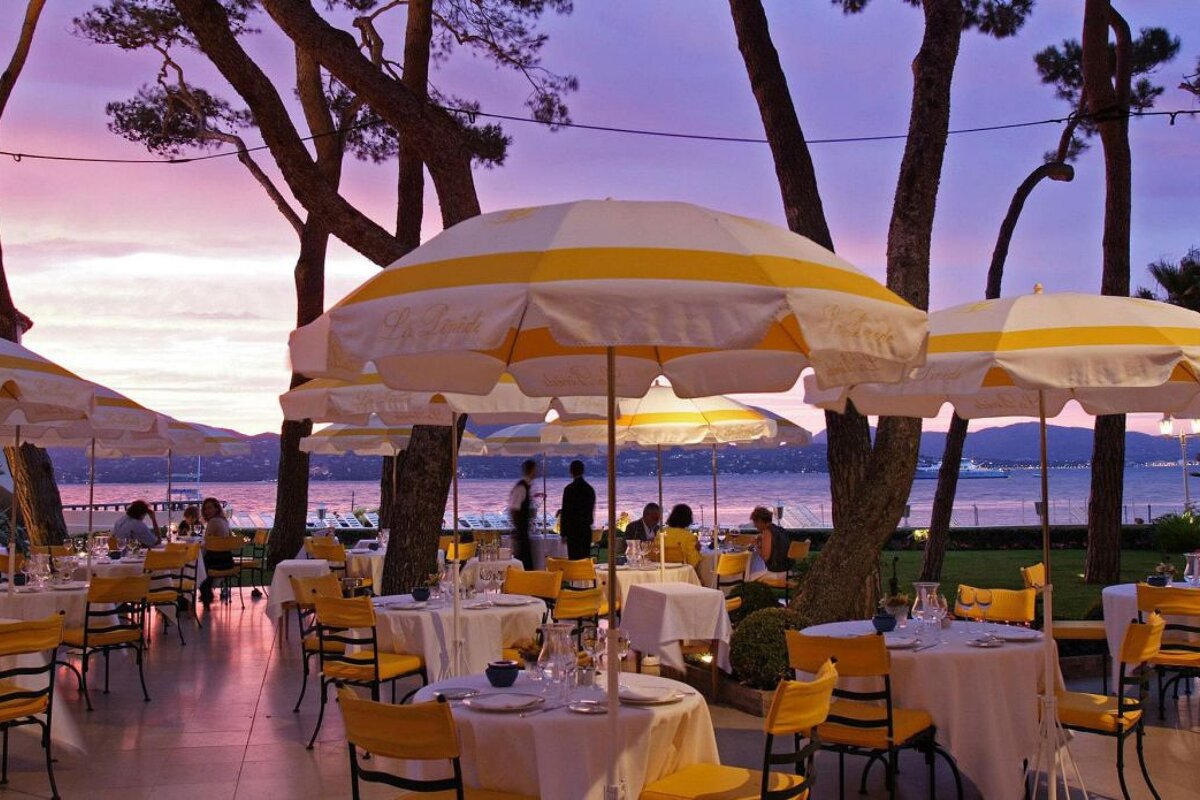 Where to Eat in Saint-Tropez
Discover the top Saint-Tropez places to eat
There's a wide range of restaurants in Saint-Tropez to suit all tastes, and budgets. Read our guide on all the best places to eat in Saint-Tropez and where to find your favourite style of cuisine.
Cafes & Bakeries
For a real taste of Saint Tropez, head to the bakery of the same name that invented La Tarte Tropezienne. Opened in 1955 by a pastry chef who created a cream-filled brioche inspired by a recipe of his grandmother's and adored by none other than Brigitte Bardot. The cake has been much copied around the world but the original recipe remains a closely guarded secret and, although there are now quite a few branches, La Tarte Tropezienne boulangeries and restaurants are the only place where you can taste the real deal. For a casual lunch where the bill won't make you cry, tuck into a fresh salad or sandwich on the small terrace and finish with a slice of this famous dessert.
French Restaurants
The food in Saint Tropez ranges from the truly spectacular to the spectacularly over-priced. There are, however, a few places where you can get good honest food for less than the Greek deficit, but you have to know your way around. And if you have no deficit to worry about at all, then you have plenty of gourmet restaurants to choose from.
There are two beautiful restaurants set in old Provencal houses in the pretty lanes of Saint Tropez.
L'Auberge des Maures is the oldest restaurant in Saint Tropez and has been serving up sensational Provencal food since before the Second World War broke out. Picasso and Charlie Chaplin are just two of the famous clientele who have eaten from its kitchen. Dine on fresh fish baked with lemon and herbs and beef stews rich with red wine and rosemary. The stone walls, thick wooden beams and grape vines just complements this food to perfection. The obvious criticism is that traditional Provencal food is not normally this expensive, but this restaurant has the history and ambiance to pull it off with distinction.
Au Caprice des Deux is another old favourite for locals and visitors alike, with a wonderful selection of Provencal and Southern French food. This place gets very crowded, and its convivial atmosphere is very enjoyable; it doesn't stand on pretension, with chunky wine and water glasses and the food coming out on thick white plates. The food here looks less like it's there to be photographed and more like it's to be enjoyed, and we mean that as a compliment: this is delicious, honest French cooking (with somewhat dishonest prices but, hey, it's Saint Tropez!).
For a truffle fest and a brief respite from the Saint Tropez summertime bling, head to Bistro a la Truffe, a cozy and popular bistro run by famous TV chef Bruno de Lorgues. Take a table among the exposed brick walls that are festooned with old black and white photos, and tuck into a wonderful meal of fresh creamy pasta, roasted meats and grilled lobster - all topped and infused with the earthy smell of truffles that fills the room. You'll pay somewhat for the privilege, but not as much as you'd expect for a meal so wonderfully abundant in truffle magic.
La Table du Marche is another St Tropez institution; this restaurant may be called a 'simple bistro', but with meals like lobster gratin and scrambled eggs with sea urchin on the menu, it's not surprising that chef Christophe Leroy is considered one of the area's most well-loved and enterprising chefs. This gorgeous little bistro and tearoom is a welcoming place, especially if you're considering indulging in the chocolate spring rolls with spicy caramel sauce.
Brasserie des Arts is a very popular and trendy brasserie that serves up decent food for fairly reasonable prices. It's got a terrace outside on the bustling Place du Lices that affords some of the best people watching on earth, and the atmosphere really ramps up as the afternoon goes on. By night-time there's a real party going on, with music until 2am.
For another unpretentious eatery popular with locals and tourists alike, head to Le Sporting; a brasserie that is not much different than so many other good local cafes across France. The furniture is old, children run about, the fish is fresh, the burgers are good, the food is hearty and flavoursome… and the prices are very good for Saint Tropez, with daily specials for about 15 euro. Try the burger with fois gras and morel sauce. This is real French cooking in that it is loved by the masses and, unless you like your tablecloths white and your cutlery in solid silver, the chances are excellent that you'll like it too.
Michelin-Starred Restaurants
With 3 Michelin stars and a view across the Gulf of Saint Tropez that deserves another star for good measure, La Vague d'Or at the Residence de la Pinede is at the pinnacle of local, French and global cuisine. Chef Arnaud Donckele was awarded the 'Best Chef of the Year' accolade in France in 2013 at the age of just 35 and his food continues to astonish. The menu features such decadent delights as blue lobster, truffles, guinea fowl and fois gras. Take a table in the grand dining room or dine on the large terrace among the pine trees on a warm summer evening. This is a truly exquisite dining experience in a French chateau setting, but unsurprisingly, it doesn't come cheap. Mains at dinner start at 90 euro, while degustation menus begin at 235 euro, with wine pairings extra. This is not a place to take someone who views 'food as fuel' (although we're not sure why you would be spending time with someone like that in the first place.)
Other Michelin starred restaurants in Saint Tropez include Villa Belrose, La Badiane, La Voile and Archange.
Modern European & International Restaurants
Had your fill of Provencal food? Head to Le Banh Hoi, a small restaurant specialising in Vietnamese and Thai food. Enjoy the Asian flavours of Thai fish and lemongrass soup, chicken satay and Vietnamese salads.
Seafood Restaurants
La Plage des Jumeaux is considered one of the best places to eat in the stretch of beach clubs that line Pampellone Beach. The décor is cool, white and green striped directors chairs and nautical chic. The seafood here is a delight, from salmon and shrimp tartare appetizers through to whole baked fish, while carnivores and vegetarians will also find wonderful dishes on the menu.
For a restaurant offering very good food, a local crowd and a terrace table by the beach, make sure you make time for La Pesquiere. An unpretentious little gem that serves up rustic French food including crunchy grilled garlicky calamari, drizzled with olive oil and salt. At three courses for 29 euro, there are few Saint Tropez restaurants as affordable as this one, and it's a lovely place to spend a summer's afternoon or evening enjoying the sea breeze.