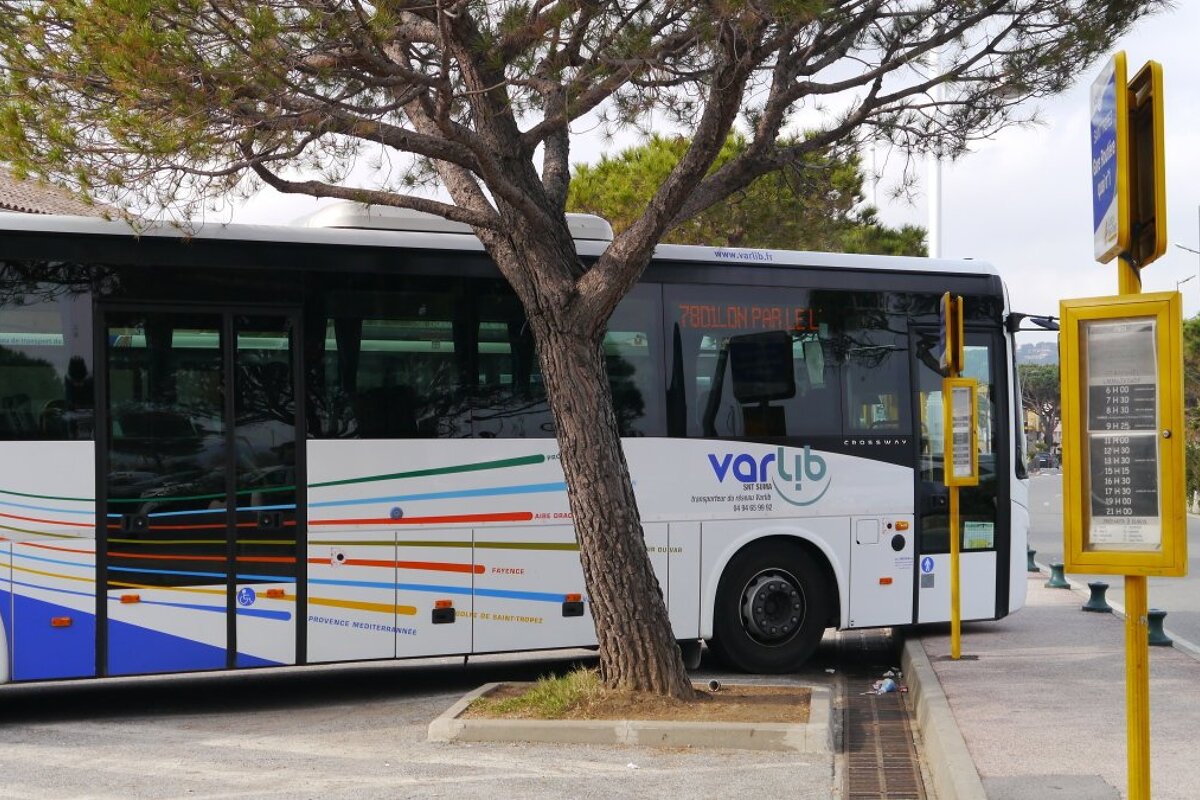 Bus Services in Saint-Tropez
Discover & book Saint-Tropez bus services
The bus services in the Gulf of Saint Tropez are run by Varlib, who offer a low-cost approach to travelling in the area. The routes are extensive and it is possible to travel by bus to most of the towns, villages and resorts around Saint Tropez.
Timetables
When looking at timetables, be aware that they're in French so L = Lundi / Monday, M = Mardi / Tuesday, Me = Mercredi / Wednesday, J = Jeudi / Thursday, V = Vendredi / Friday, S = Samedi/ Saturday & D = Dimanche / Sunday.
The services are regular if not frequent, and times can vary depending on the season. We have highlighted the most useful bus lines below for travel from St Tropez to the main towns, villages and nearby beaches. Timetables are available on the Varlib website (also available in English) for the lines below as well as other routes in the area and for onward journeys from Saint Raphael or Toulon.
Saint Tropez Local Buses
Bus 7601 - Saint Tropez - Saint-Raphaël
Bus 7701 - Saint Tropez - Gassin - Cogolin - Grimaud - La Garde Freinet
Bus 7703 - Saint Tropez - Pampelonne beaches - Ramatuelle
Bus 7705 - Saint Tropez - Pampelonne beaches - Ramatuelle
Bus 7801 - Saint Tropez - La Croix Valmer - Le Lavandou - Bormes - Toulon
Once on the bus you will need to use the red button to request the correct stop. This will alert the driver and light up a red sign above him that says 'Arret demande'. If no one pushes the button and there are no passengers waiting at that particular stop then bus will not stop.
---
Note that these timetables may vary throughout the year and during holidays so please contact the bus companies in advance to avoid disappointment.
Luggage
Small luggage is accepted aboard of the buses although suitcases, strollers and food trolleys must be placed in the baggage hold. Bicycles are prohibited during the busy summer months from July 1st to August 31st.
Pets & animals
Animals under 6kg are accepted on the buses. They must travel on the knees of their owner in a bag or a basket, and can travel for free.
How to get passes
You can buy tickets from the office at Saint Tropez bus station or pay the bus driver directly when you get on. They will have some change so you don't need the exact money, but it would probably be helpful for the drivers if you can manage to avoid handing over a €50 note.
The cost is 3€ per single journey, and you can make use of all the various bus lines in the Saint Tropez area - the ticket covers any required changes on a journey of up to 90 minutes. You can also buy a 10-trip ticket which is better value. The advantage of this ticket is that it is transferable and can be used to pay for all members of your group.
Children under the age of three years old travel for free if accompanied by an adult in possession of a ticket. Children under ten years of age must be accompanied by an adult.
For residents, you can apply for a Varlib Pass' which are sold in several bus stations or through the online e-boutique service. Check the different subscription choices here.