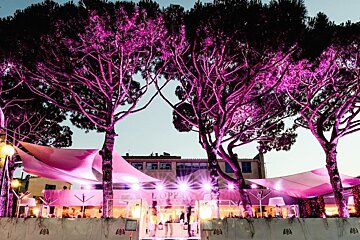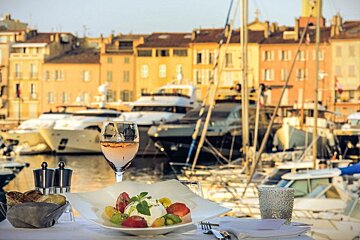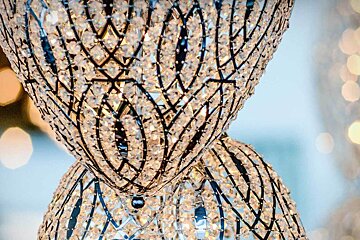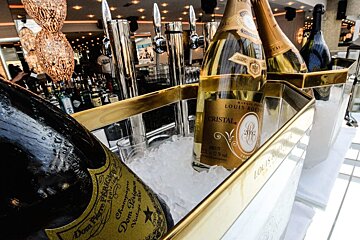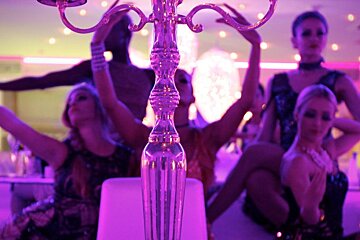 L'Opera Saint Tropez Restaurant, Saint Tropez
Restaurant, lounge bar & nightclub, one place for all in St Tropez Port
This new establishment offers visitors a wonderful array of options, from a chilled out Port side coffee or bottle of champagne, to fine dining and delicious seafood delights, and finally live music and dancing in one of the hippest late night bars in the Port.
Whether you choose to sit inside or out the décor and environment is light and airy with a lovely modern twist whilst still retaining the fine dining experience that we have come to expect in Saint Tropez. With attentive waiters and delicious food it is a pleasure to sit here and watch the world of the Port go by. A great spot for some people watching or celebrity spotting.
When it gets dark this turns into one of the most fun places to be in Saint Tropez, with flame throwers, exotic dancers, violin players and much more to entertain you. There are a number of resident DJs who spin the beats late into the night.
Open daily from 08:30-03:00.
Watch this
L'Opera Saint-Tropez 2015

Welcome to l'Opera Saint-Tropez #lOpera #lOperaSaintTropez #SoChic #Restaurant #LiveShows #Performers #Nightlife #Unique #WeekendFever #HotSummer #PhilippeShangti #ThisIsSaintTropez #SaintTropez

Posted by L'Opera on Friday, 21 August 2015
The neighbourhood
Great views across the Port and the marina, perfect for spotting some of those super yachts that dock there!
The Bar
Offering up a great and varied selection of wines, spirits and cocktails. The music adds to the atmosphere and the regular shows, dance acts and live music artists really leave you feeling like you have been somewhere special.
Visitor comments
"Harbourside setting, sunny day and a perfect lunch. I love lobster and in the past have lived in or near some of the finest lobster regions in the world, Nova Scotia, New Brunswick, Maine but the lobster roll and shoestring fries here are the absolute best! Add to that the excellent service, bobbing yachts and people watching - what more does anyone need." - Trip Advisor
"Waiters were polite and the service was first class. They had seats inside and outside. You can go for lunch or a drink, there's space for all! We didn't make a reservation." - Trip Advisor
"Favourite restaurant on earth! Atmosphere is a NYC Bagatelle meets Baoli Miami but better! The performers are incredible with amazing voices and excellent props and costumes - performing the latest music. The vibe is HOT and you will stay entertained while you eat. It's super chic and trendy... The food (I ordered the Sole) was the best we ate in all of Southern France. It's a MUST!" - Trip Advisor
Location