Saint Tropez villas in vogue
From secluded luxury to family friendly villa holidays in St Tropez
Thanks to famous residents such as Brigitte Bardot, F Scott Fitzgerald and more recently Bono, the south of France is a millionaires' playground. A villa holiday in Saint Tropez ensures that you'll be rubbing shoulders with the rich and famous, or perhaps enjoying the seclusion that a private villa brings.
In and around the area Saint Tropez you can find luxury villas that offer everything from private pools to private staff and concierge services, beachfront villas where you can moor a yacht on the private jetty, and family friendly villas in bustling holiday villages. Here are our top picks for the Saint Tropez villas in vogue for 2017.
Villa La Grande Bastide, Saint Tropez
A holiday in this villa may change your life forever! Villa La Grande Bastide has 14 bedrooms and can happily house a large group of family and friends within its luxury walls. Set in 14,000m2 of private grounds the property is nestled half way between the white sand beaches of Pampelonne and the hub of Saint Tropez town. With your very own tennis courts, basketball, swimming pool (in fact several swimming pools), large pond complete with heliport and enough parking for some 20 vehicles, this villa seems to have everything you could possibly need for a wonderful holiday. Only 10 minutes from the infamous nightclubs of St Tropez and the celebrity beach clubs of Pampelonne you are sure to be part of the 'it' crowd in no time.
Apolline Villa, Saint Tropez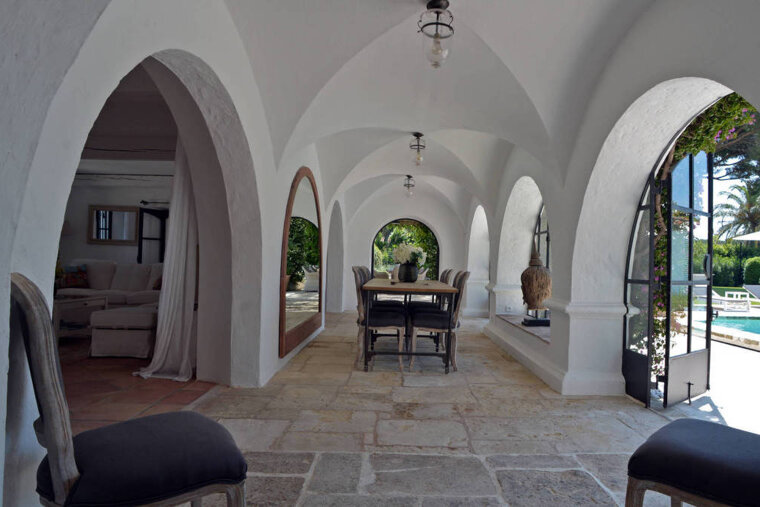 Located in the prestigious private estate "Les Parcs de Saint-Tropez" Apolline Villa offers complete privacy in secluded stunning Mediterranean garden bordered by cypress, palm and stone pine trees. Within easy walking distance of a private beach, a holiday here allows you to immerse yourself in the Provencal way of life. With traditional decor, stunning terraces and a large swimming pool this villa is the epitome of French living. Enjoy a coffee and fresh croissant on the terrace, a gin and tonic by the pool and an aperitif in the atmospheric living room.
Only a short drive to Saint Tropez means that you can be at some of the best restaurants and bars on the Riviera in moments. Alternatively, you may enjoy the seclusion that this villa offers and never leave the front door!
Margot Villa, Ramatuelle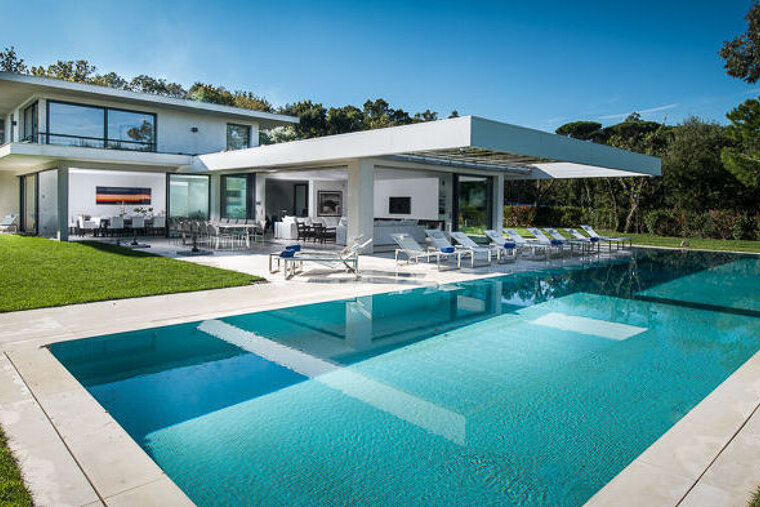 For the ultimate in modern luxury, Villa Margot is located in Ramatuelle area, not far from the popular Pampelonne beach. Offering 180-degree views over the St Tropez peninsula and down to Escalet beach, this 8 bedroom villa matches comfort with contemporary design and is a masterpiece of modern architecture. The interior decor is classic St Tropez style and mixes black and white furniture with white washed walls. With an open floor plan, exquisite gourmet kitchen, dining room for 18 guests, and comfortable living and lounging areas with large panoramic windows..all you need to do is pack your sunglasses, bathing suit and a special outfit for that night out in Saint Tropez.
L'Escalet Villa, Ramatuelle
If a stunning view of the azure waters of the Mediterranean is at the top of your dream villa wish list then look no further! L'Escalet Villa is perched in the rocky coastline above L'Escalet beach and overlooking the lush forest and crystal clear waters of the St Tropez peninsula.
An elevator brings you up to the 5-bedroom house where the open concept kitchen offers a 180-degree view of the sea making cooking a pleasure. Floor-to-ceiling glass doors that open completely flood the kitchen and living room with natural light. An infinity pool whose stillness mirrors the subtle details of the sky awaits you, and down the steps you will find a pebble beach and protected pathways that let you walk along the sea for miles. Five minutes away, you come to a sandy beach.
Les Restanques du Golfe Villa, Grimaud
The Les Restanques du Golfe Villa is located within the residence Eden Parc- a family friendly resort located above the Port area in Grimaud. Exceptionally child-friendly, it offers great facilities for families and has many restaurants, bars and shops.
With a fun water park plus a selection of swimming and paddling pools, you will be spoiled for choice. The fun pool features water jets, a wave pool, slides and a geyser. A landscaped area with palm trees, Mediterranean plants and a bamboo garden is available for you to enjoy some peace and quiet. For added convenience and to keep your luggage to a minimum, you can hire baby equipment including cots, high chairs, baths and even a baby back carrier for hiking.
More inspiration...
Check out the rest of our selected villas in Saint-Tropez and pick the best spot for your holiday in 2017.
Location
Saint-Tropez, Saint-Tropez