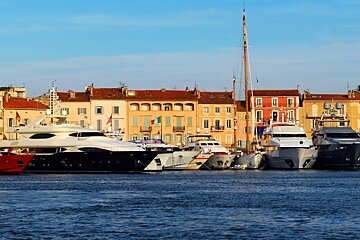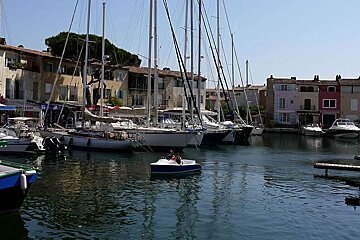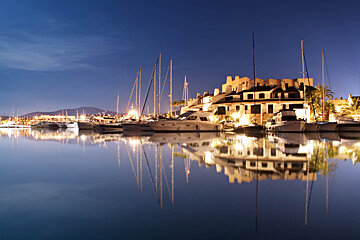 Marinas and moorings in Saint-Tropez
Discover the top Saint-Tropez moorings
With a beguiling mix of old wooden sailing masts and gleaming superyachts, the beautiful fishing village of Saint Tropez is perhaps the most famous yacht marina in the world.
Saint Tropez is a very splendid village, and its marina is an exciting place to be. However, given the competition and steep prices of a midsummer berth in Saint Tropez, you'll often find that some of the neighbouring marinas offer a cheaper and more low-key experience (with the same great access to the stunning beaches and medieval villages of Provence).
Weekly Charters Day Charters Fishing Charters
---
The Port de Saint Tropez runs right along the cobbled water-front of this chic town, so you can step right off your boat and into the cool sophistication of Hotel de Paris or sip a glass of rose in one of the other pavement cafes. Or perhaps you'd like to have a Provencal lunch in a shady restaurant courtyard beneath the grape vines, followed by an afternoon spent shopping in the town's glamorous boutiques.
Whatever floats your boat, Saint Tropez is a very special and memorable place to berth your vessel. It can also be quite a pricey one, with berth rates ranging between 27 euro per night for a 5m boat, to 2,894 euro for a 70m boat to come into port for a night.
As you might imagine, it can be tough finding a berth in Saint Tropez in summer. There's just one marina in Saint Tropez proper, but if you can't nab a spot there are some good marinas nearby, such as the well-protected Cogolin marina, Port Grimaud ('the Venice of Provence') and the relaxed seaside town of Cavalaire-sur-Mer.
Moorings & marinas
Port de Saint Tropez
The most glittering of marinas, Port de Saint Tropez, is relatively small, with 734 berths for yachts up to 50 metres in length, and a maximum draft of 6 metres. This is the only marina in Saint Tropez proper and berths are extremely sought after. The celebrity clientele ensures that the port's level of service is high and that there are all the necessary amenities, from a dedicated business area, concierge or 'groom' service, WiFi subscription, fuel dock, free waste water pump-out and electricity etc. Saint-Tropez harbour also has two terraces on the Jean Réveille Pier which are available for hire for special events.
There is a sailing club in the port called the Societe de Nautique de Saint Tropez. Saint Tropez is the venue of 17 sailing events throughout the year, of which 6 are major regattas. In late September/early October, the Port de Saint Tropez hosts the last classic sailing regatta of the season, Les Voiles de Saint Tropez, transforming this already desperately pretty marina into a magnificent display of old wooden yachts, which race across the bay in the daytime under billowing cream sails before returning to port to a huge party at night. It's quite a spectacle.
You can book your Saint Tropez berth online. The website also has an English version.
Marina de Port Grimaud
Marina de Port Grimaud is a quite extraordinary marina on the Gulf of Saint Tropez, with over 2000 berths over three marinas connected by a quite charming network of canals, bridges and man-made islands. Often likened to Venice for its canal layout, this port was designed in 1967 by an architect who decided he wanted to build a marina and Provencal village on seaside canals in the South. While most of the berths are privately owned, several hundred are reserved for casual stays. The marinas can admit yachts up to 30 metres, but the majority of berths are for small vessels. You'll find lots of shops, restaurants and services in the village- or you can just grab an ice-cream from a waterfront parlour and wander the network of canals. If you're looking to explore the area, the old town of Grimaud is a perched village a few kilometres inland, with ancient links to the famous Grimaldi family- now the ruling family of Monaco. Port Grimaud is seven kilometres from Saint Tropez.
Marines de Cogolin
Like Port Grimaud, the Marines de Cogolin is the sea port of a perched village a few kilometres inland. Another new port built to take advantage of the burgeoning leisure yacht industry, Cogolin is a very large port, with capacity for 1600 boats with a maximum length of 50 metres. The average depth is 4 metres. The marina is set over three large basins, and its position at the mouth of an inlet makes this a very sheltered marina during bad weather spells. The marina has a shipyard, chandlery, Laundromat, wifi, boat rentals, and all the usual services.
The complex also has shops, restaurants and services surrounding the marina, as well as a sailing school, swimming pool, diving school and tennis courts.
Port de Plaisance de Cavalaire
Cavalaire is a relaxed and modern seaside town near Saint Tropez, but with none of its bling. With lots of great beaches, affordable restaurants and friendly locals, this is as far as you can get from Saint Tropez while still being close by. The Port de Plaisance de Cavalaire has 570 places over 5 pontoons and a main quay, catering to vessels up to 20m and with a 6m draft. There are basic services such as water and electricity on the dock, toilets and showers, and 24/7 marina security.
Port de Sainte Maxime
This smaller port near Saint Tropez has 375 berths, catering to vessels up to 25m long. Port de Sainte Maxime has basic services such as electricity, water and a fuel dock, this is another low-key marina in a town with a family friendly vibe.