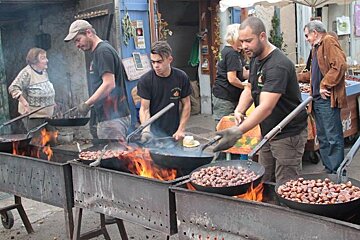 Fête de la Chataignes - Chestnut Festival, Collobrières
Annual festival of all things chestnuts
In Provence, the department of the Var is the place to look for chestnuts. The Var village of Collobrières regards itself as chestnut capital of the world and in late October it's time for the chestnut festival, which attracts thousands of visitors from near and far.
During the festival, you can taste and buy chestnuts in every form and shape. There are roasted chestnuts, chestnut preserves, chestnut paste, chestnut cakes and pies and, for the connoisseur, marron glacé (a delicately prepared and sweetened chestnut, the bonbon of marron).
Fortunately for the chestnut-allergic, the festivals offer other delights including the ever-present anchoïade, merguez (North-African sausages), or patés, all to be washed away with the newly arrived wine of the year.
The event takes place from 10:00 to 18:00 on Sundays in October.
History
Held since 1982, this event attracts more and more visitors every year - more than 45,000 in 2018.
Location