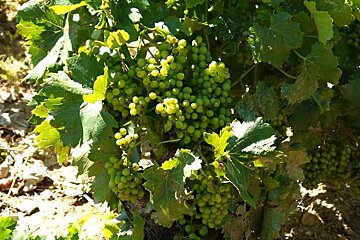 Coteaux Varois en Provence
Vineyards centred around Brignoles, in the heart of the Var region
The Coteaux Varois covers the area around Brignoles, in the heart of Provence, with Barjols and Villecroze in the north, and La Roquebrussanne in the south. With over 80 vineyards producing red, white and rose wines, there are plenty of choices available for those looking to immerse themselves in Cotes de Provence.
Regional wines
Rose is king in this region, made from the Grenache, Syrah, Mourvedre and Cinsaut grapes. The traditional Provencal grapes Tibouren and Carignan can also be present; Tibouren is known for bringing some spice to the roses it is in. Pale pink in colour, the rose is fresh with nlotes of red fruits.
A small amount of red wine is produced and is allowed to contain some Cabernet Sauvignan (a relative newcomer to Provencal wines). The reds produced are more robust thanks to the cooler climate, with greater tannins, and have notes of violet.
White wine is not big here, but those that are produced contain Rolle and Semillon grapes, with Ugni Blanc, Clairette and Grenache Blanc making up the blend. Pale straw coloured, the white wine is more floral with some citrus notes. It works well with fish and goats cheese.
Notable vineyards
All the vineyards listed have award winning wines and speak English.
Domaine de Garbelle is located just south of Brignoles and offers a good selection of award winning wines. Wine tasting is available throughout the year.
Domaine St Julien has 30 hectares of vines and a wine cellar open to the public for tastings. The vineyard is a few kilometres to the west of Brignoles.
The cellar at Chateau Margilliere offers regional products as well as it's award winning wines. You'll find this vineyard to the east of Brignoles.
Chateau de l'Escarelle is one of the larger vineyards in the Brignoles area, with 100 hectares of wines. The rose in particular has won many awards. Their wine is also available worldwide.
Domaine Saint Mitre has an extraordinary range of rose wine in addition to reds and whites. The vineyard is located a few kilometres to the north of Saint Maximin la Sainte Baume.
Further to the north of this region is Chateau La Curniere. The vineyard is to the north of the village of Tavernes, and they offer tastings and tours by appointment. They also make their own olive oil.
If you are staying in the Villecroze area, then a trip to the Domaine Saint Jean de Villecroze would be worth your time. In addition to tastings, there is a small 11th century chapel on the grounds, as well as walking trails.
To the south of Villecroze is Chateau Thuerry. Tastings are available throughout the year and a free guided tour followed by a tasting session is organised every Friday at 2.30pm.
Also close by to Villecroze is Chateau de Majouliere. Their tastings run from 3pm to 6pm on Monday, Thursday and Friday.
The tasting cellar and shop at the internationally renowned Chateau Real Martin is open every day from June to September. At other times of the year, call ahead for an appointment. The vineyard can be found between Barjols and Correns.
You can have a real day out at Chateau Fontainebleau, also close to Correns. They offer winery tours and educational tastings, carriage rides through the vineyard, guided walks, and a chance to match small savoury plates with their wine. All these activities have a small fee.
All these vineyards are open throughout the year and tend to be closed on Sundays and public holidays. It is always best to contact the vineyard before your visit to make sure they can accommodate you, particularly if you would like to take a tour. Groups are catered for by appointment.
Location