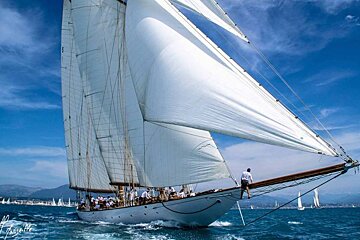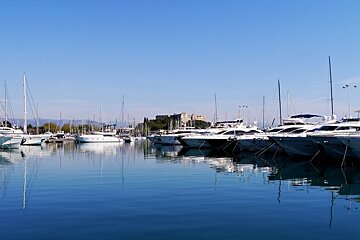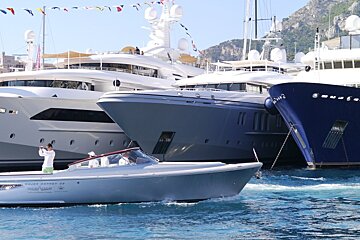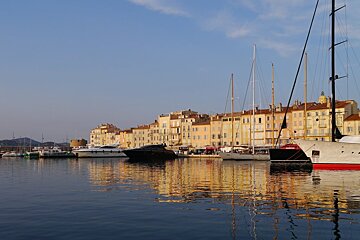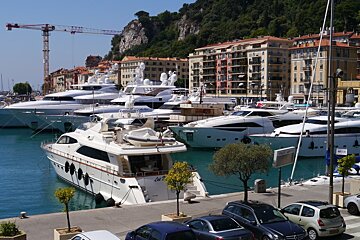 Chartering yachts in Saint-Tropez
Discover the top Saint-Tropez sailing charter options
Fishing, sailing or just relaxing on a deckchair with an icy glass of rose in your hand, your holiday on in the south of France can only be improved by getting on the water.
Whether you want to charter a boat for a day, a week or even months, you will find you're spoilt for choice when it comes to picking one suitable for your individual needs. Saint-Tropez is home to a whole host of charter companies offering sailing yachts, motor yachts, catamarans and speedboats of all different shapes and sizes.
Prevailing weather
One of the greatest drawcards of the French Riviera is the weather. With light breezes, minimal tides, calm seas and sheltered anchorages in the summer you have perfect yachting conditions to enjoy, and it's not uncommon to see yachts, kayaks and dinghies out on a warm mid-winter day. In the summer the water temperatures are about 21 to 27 degrees celsius, so it's ideal for all types of watersports. However, the south of France is sometimes subject to the strong Mistral wind which tends to visit in winter and spring.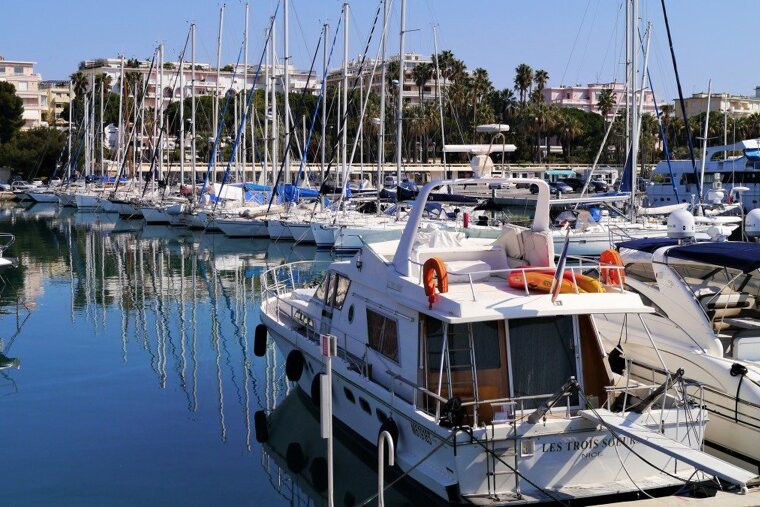 Charter options
The French Riviera is one of the world's greatest yachting playgrounds, so it's no surprise that the region caters to every wish when it comes to chartering a boat, from a little day boat to a superyacht.
Bareboat vs Crewed
The biggest choice to start out is whether you want a bareboat (uncrewed) charter or a crewed charter. Bear in mind that superyachts are always crewed, and it's only the smaller and less expensive yachts that have a bareboat option, particularly sailboats. A bareboat charter is a wonderful experience where everyone on board pitches in with navigating, sailing, cooking and cleaning. You can drop anchor when you want and enjoy the freedom.
Licenses for bareboats
If you do decide on a bareboat charter, one person on board must be an experienced sailor or captain with a license. In France, a license is almost always required for a motorboat rental (see exception below), while it's a bit more of a grey area for sailboats. Often you can charter a sailboat if you can show you have the experience. If you've chartered before that also counts in your favour, so take the proof.
The accepted license is the International Certificate of Competence (ICC). If you already hold a license from your home country, normally you can fill out an ICC application and send it to your licensing body (for instance the RYA - Royal Yachting Association in the UK). Your local yacht club will be able to help you with licensing and any necessary courses.
You can also hire a skipper on a bareboat charter, generally for around €250-300 per day. This is a great option for those who want to avoid the stress (and liability) of navigating in the busy waters of the Riviera and a local skipper will know all the best spots.
Without a permit
While most boat rental companies will require you to have a license or proven experience, there are small boat companies in ports along the Riviera where you will see 'bateaux sans permis' on the signage: this means you don't need a permit. These low-powered boats have less than 9 horsepower and there are strict regulations as to how far you can go from shore.
Chartering yachts
Dayboats
These range from low-powered dinghies to high-speed powerboats. Dayboats require that you have the boat back by 6pm. Perfect for a fun day trip to the Cannes islands, exploring the pretty coves of Cap d'Antibes, or fishing. If you are after a powerboat without a skipper, it will require a large deposit and certification, and the boats available are rarely over 40 feet.
The following types of yacht are normally chartered by the week, although there are exceptions.
Super Yacht (motor or sail)
These tend to be large crewed yachts over 24m in length and will sleep 10-12 guests in absolute luxury. Expect spacious cabins and onboard entertainment systems, Jacuzzis and water toys.
Motor Boats (bareboat or crewed)
From dayboats to motorboats these go up to 24m in length, some with accommodations and ranging from low-powered to high powered fast boats. Please note: If you don't have a crew onboard, then it is unlikely you will be able to rent a powerboat for more than a day.
Monohull Sailboats (bareboat or crewed)
These boats offer a wonderful sailing and adventuring experience for exploring the coast and its pretty coves and towns. Although not as spacious as other options, these boats are perfect for those who love sailing, and those who want to learn.
Catamarans (bareboat or crewed)
More spacious, very stable, great for families with bigger cabins and deck space. Not as good under sail as monohulls and can get pushed sideways a bit in the wind, but better in shallow anchorages as the draft is less than on a monohull. Generally a better choice for inexperienced sailors. The kids (and adults) will love stretching out above the water on the netting at the front of the boat.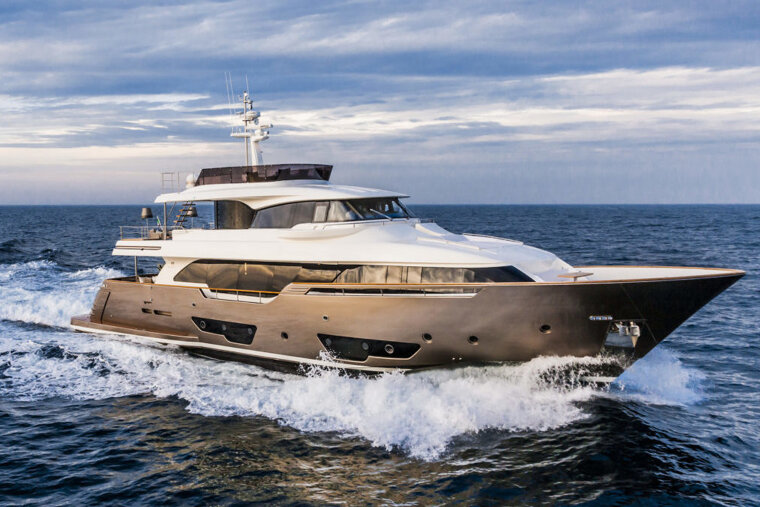 Charter costs & taxes
Given the range of boats available for charter, it is impossible to give a definitive price guide, but here's a rough indication. Remember that your charter fee only includes the cost of the boat itself (and the crew if you have one); you will have to pay for fuel, food and drink, berthing fees and any tip for the crew on top of that.
Price guide for yacht charter
Dayboat rental starts at about €200 for a low powered dinghy for up to six people (no toilet) and rises into the thousands for the fast powerboat options. You can rent for half a day, but it's normally about 80% of the cost, so it's advised to enjoy the whole day on the water if you can.
For yachts with accommodation to sleep families or groups of friends, a yacht charter works out to be relatively economical given hotel costs in summer on the Riviera. You can expect to find bareboat sailing yachts, with relatively small accommodation, starting at about €1500 a week, rising into the tens of thousands for the more spacious and crewed superyachts. Catamarans are generally more expensive due to their larger volume and accommodation spaces. These boats will normally come with one tank of fuel and water and a dinghy.
The very smallest superyacht will cost you about €30,000 a week and can rise up to a million euro for one of the megayachts you'll see in the marinas of Monaco or Antibes.
Berths
Berths along the Riviera are expensive, although ultimately worth it for the facilities they provide and the access to Saint-Tropez. Another option is to tie up to one of the mooring balls for a smaller fee, or to drop anchor outside the marina in a tranquil cove, which is free of charge. Spend the night rocking gently at anchor and looking out over the shining water at the lights of the famous towns along the coast.
Food
Yachts with accommodation will come with kitchen facilities, and most will offer a catered service so that you can relax and let someone else do the cooking. It is worth remembering that food and drink are not normally included in the cost of a dayboat charter, so factor this into your budget.
Fuel
The type of yacht and itinerary you decide on will have an impact on the cost of your yachting holiday. The average charter burns about 3 hours of fuel per day, and it's generally about €1.20 per litre of fuel. If your boat uses 40 litres of fuel per hour, then you're looking at around €50 an hour for fuel, so probably about €150 a day for smaller boats and much more for go-fast boats and superyachts. Remember to budget accordingly.
Sailing yachts are obviously the best option if you want to avoid high fuel costs, although, with the gentle winds of summer, you might not travel anywhere very fast. As a general rule, a sailing itinerary will take twice as long as the same route by motor yacht.
Fast motor yachts can have a high fuel consumption so ask your yacht rental company for advice on how much your itinerary will cost you in fuel.
For a 50 metre superyacht, you can expect to pay about €5000 a day in fuel, and that's at cruising speed of 10 knots. If you aren't planning to travel far along the coast and you anchor off rather than paying berthing fees, a small superyacht still works out quite economically when compared to a 4-star hotel if there are a few couples on board.
Tipping
If you have a crew, it is customary although not compulsory to tip. On crewed motor yachts and superyachts, it's 'very customary', and the crew will definitely think they've done something wrong if you don't tip. The standard rate for tipping is 5-15% of the charter fee. Give it to the captain on the last morning before disembarking and be sure to ask if it is shared evenly between the crew.
Tax
A fairly new EU ruling insists that VAT tax on yachts is in line with European regulations. Dayboat rentals will generally have it included but you can expect to pay VAT of 19.6% on top of a longer charter.
Security Deposit
For bareboat charters you will generally have to leave a security deposit (normally just a credit card impression) to cover any potential damage or breakages, so make sure you have a good look around the yacht when you take charge of it, and document any existing damage, with photos if possible, just like you would a rental car.
Insurance
All rental providers must carry insurance, you can ask to see these documents prior to signing the charter agreement if you wish. You can take out insurance against losing your security deposit, normally for around €100.
Extra costs for bareboat charters
You may have to pay a cleaning fee of between €50 and €150, check the paperwork or ask the rental company. Linen rental may also be extra in some cases.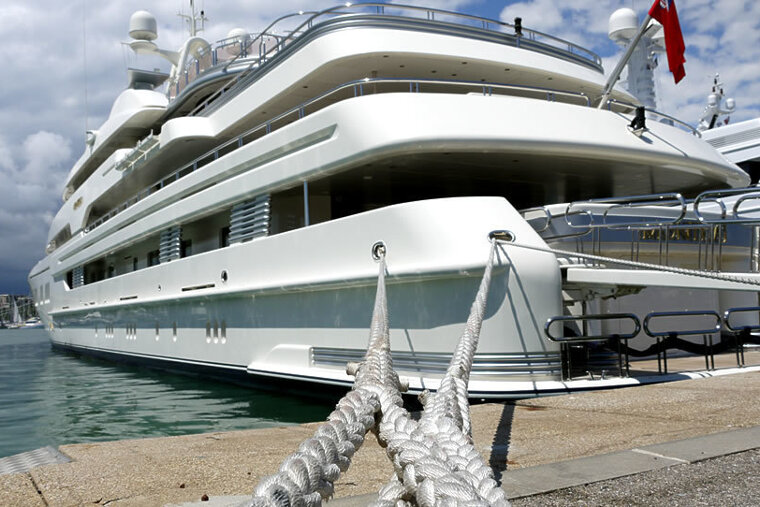 Moorings & marinas
Whilst out chartering your boat in Saint-Tropez you will undoubtedly need to stop and make use of the local moorings and marinas in Saint-Tropez, which have berths available for small fishing boats, right up to the growing sector of the superyacht category. Most ports and marinas will offer daily and overnight rates for yacht charters so it's important to factor these additional costs into your yacht charter. It is highly recommended to book these moorings in advance, especially in peak season because the ports often get booked up.
When to come
The boating season officially begins in April, although weather can be variable, and runs through until October which can see some stunning (and stormy) days. In these months, you can often find yourself out sailing in warm sunshine, looking up at the snows on the Alps that loom above the coast. The water gets busier as you would expect in July and August, but never fear, June and September are gorgeous months to be on the water, crowds are less everywhere you go and the temperatures are a lot more pleasant.