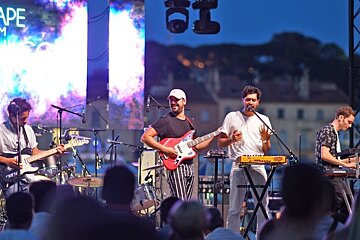 Fete de la Musique in Saint-Tropez
Saint Tropez turns into a huge open-air music venue on June 21st
Next Friday, June 21st, St Tropez will host the musical event of the year in France, the Fete de la Musique. This country-wide celebration, promoted by the government since 1982, honours the summer solstice by turning the whole nation into a huge open-air music venue.
This year, the Fete de la Musique celebrates its 38th edition. The town of Saint-Tropez will host dozens of live music concerts while most of its squares and open-air spaces turn into music venues for a day.
The main hotspot, just like last year(!), will be the Port of Saint-Tropez where the "Do You Saint Tropez" festival will take place, entry is free. The neighbouring villages of Ramatuelle, Grimaud and Cavalaire-sur-Mer will also host special concerts in the town centre.
These are only the official events but the Fete de la Musique will be a town-wide celebration of music. Wander around Saint Tropez and you'll find that most of the bars, restaurants and clubs in town have organised their own little live music events.