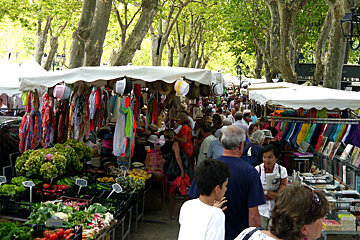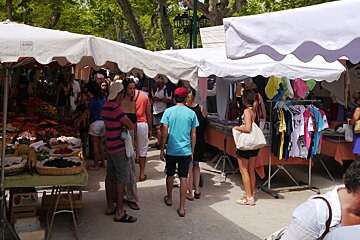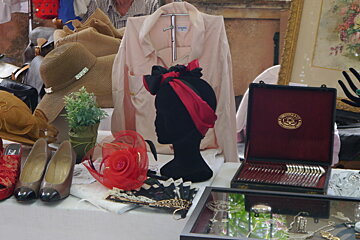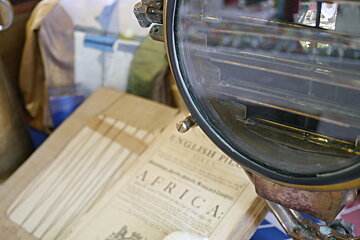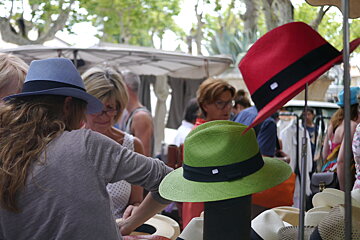 Place des Lices Provençal Market, Saint Tropez
Wonderful traditional market held twice weekly
Every Tuesday and Saturday morning, Saint Tropez hosts its open air market on the famous Place des Lices.
This is a fantastic market which sells a huge range of foods including bread, pastries, cheese, sausages, flowers, olives, spices, herbs, fruit and vegetables. Locals head to the market early to secure the freshest produce.
There are also stalls for the souvenir hunter. None of the tacky plastic here, this is good quality home accessories, antiques, mirrors, vintage posters, paintings and arts and crafts.
​Or you can stock up on the necessary items such as t-shirts, bags and that typical French Riviera style fashion accessories. Prices are good here too – a rarity on the Côte d'Azur and certainly in St Tropez.
Worth knowing
The surrounding markets all follow a similar pattern - fresh produce around the main square, specialist food stalls fanning out from there, then cheap clothes, household goods and craft stalls for the tourists.
Surrounding markets to Saint Tropez

Ramatuelle
Thursdays & Sundays - Place de l'Ormeau
Cogolin
Wednesdays & Saturdays - Place Victor Hugo
La Croix-Valmer
Sundays
Cavalaire-sur-Mer
Wednesdays - Place Jean Moulin
Sainte-Maxime
Thursdays - Place du Marché
Where and when
Situated in the heart of St Tropez the market takes place in Place des Lices in the morning.
Dates for this event
December 2023
January 2024
February 2024
March 2024
April 2024
May 2024
June 2024
Location